A looming recession and an unemployment rate projected to climb to 6.6 per cent by early 2024 are set to tip more Canadians into loan delinquencies and insolvencies, according to a new report released Wednesday by RBC Economics.
The report said mortgage delinquencies could rise by more than a third of current levels over the coming year with massive pandemic-related support measures largely over and living costs now soaring.
It said consumer insolvencies could increase almost 30 per cent over the next three years, returning to pre-pandemic levels and likely remaining on an upward trajectory after that.
"Still, we expect any financial troubles to remain relatively contained in the short to medium terms," said the report.
"The noticeable improvement in Canadians' finances (in the aggregate) early in pandemic wasn't sustainable. Those gains are now reversing and will likely erode further amid a softening economy and higher interest rates. We expect the environment to remain challenging for years to come—but an all-out collapse is unlikely."
RBC said a booming housing market put mortgage debt on a fast track and by late 2021 Canada's household debt-to-income ratio had exceeded pre-pandemic levels and its remained elevated ever since.=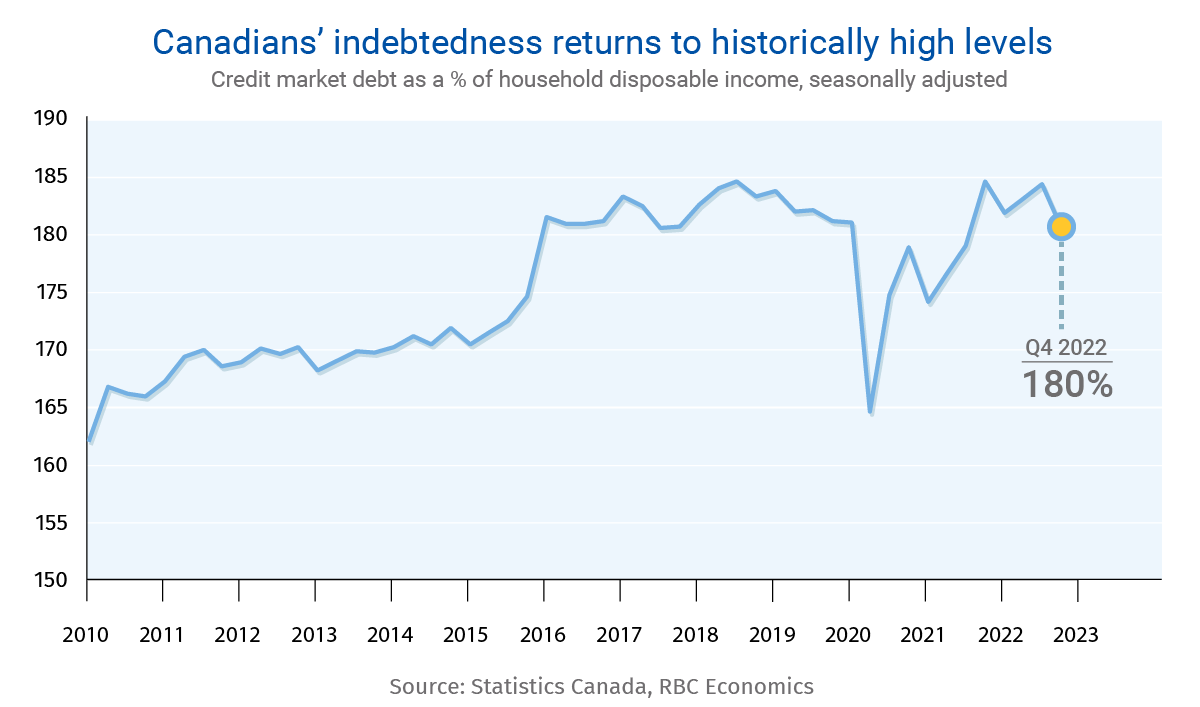 "Over the last year, the burden of that debt has grown even heavier for Canadian households. Government support programs have largely ended, the cost of living has soared with inflation, and interest rates have spiked. These developments have caused an increasing number of Canadians to fall behind in on debt service payments that have suddenly swelled," said the report.
"While the share of mortgages in arrears hasn't really increased so far—and remains the lowest on record—the rate of consumers 90+ days late on their debt service payments has nevertheless risen for installment loans (typically used for one-off purposes like home renovations, unexpected emergencies and debt consolidation), credit cards, auto loans, and more recently, for lines of credit.
"A looming recession and the ongoing effect of higher interest rates will only add stress in the period ahead. Holders of debt with interest rates that instantly adjust to changes in the Bank of Canada's policy rate (e.g., variable rate mortgages) are already facing steeper monthly payments in many cases. This will also become the reality for fixed-rate mortgage holders once their term expires.
"Meantime, the modest contraction we expect for Canada's economy will likely trigger job losses. We project our national unemployment rate will rise from the current five per cent to 6.6 per cent by 2024Q1. Historically, the loss of a job has been one of the principal factors contributing to loan delinquencies and consumer insolvencies in Canada.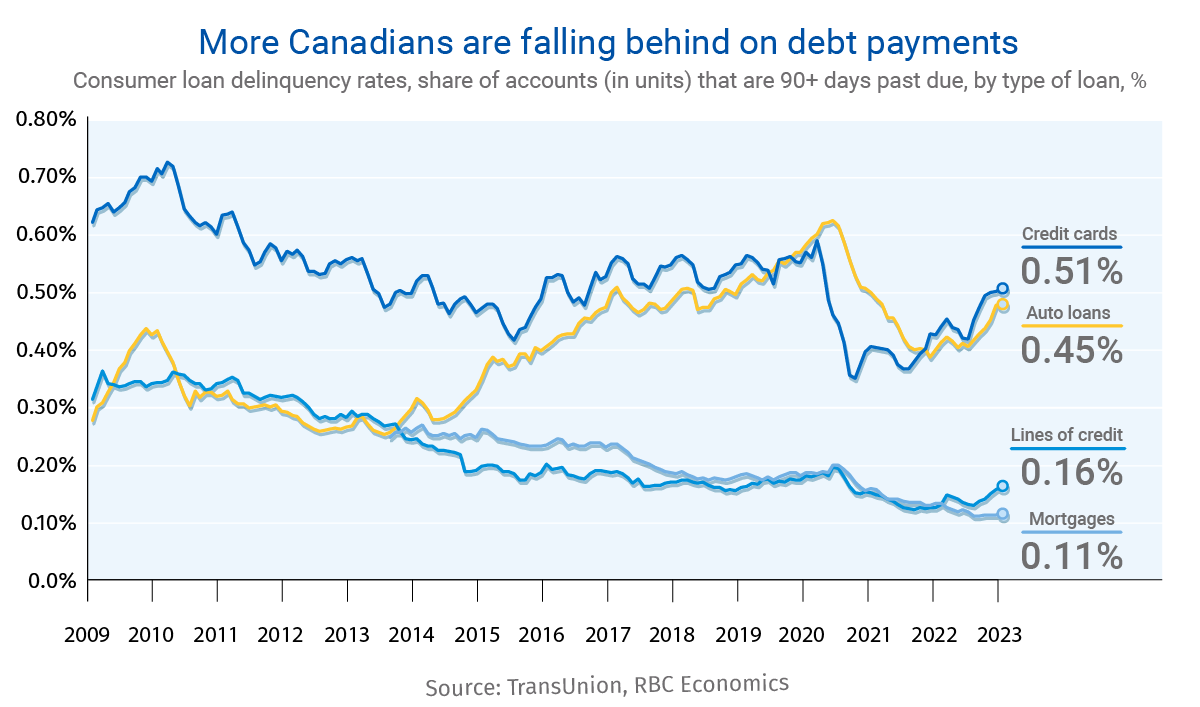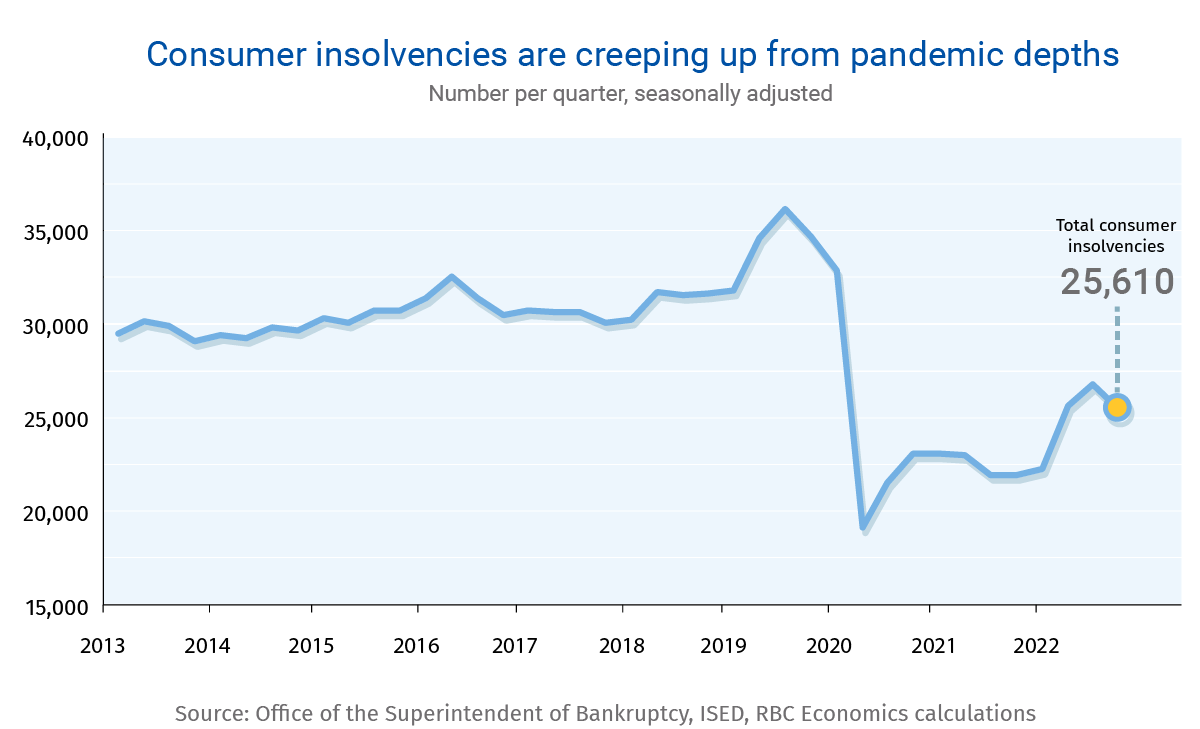 (Mario Toneguzzi is Managing Editor of Canada's Podcast. He has more than 40 years of experience as a daily newspaper writer, columnist, and editor. He worked for 35 years at the Calgary Herald, covering sports, crime, politics, health, faith, city and breaking news, and business. He works as well as a freelance writer for several national publications and as a consultant in communications and media relations/training. Mario was named in 2021 as one of the Top 10 Business Journalists in the World by PR News – the only Canadian to make the list)
About Us
Canada's Podcast is the number one podcast in Canada for entrepreneurs and business owners. Established in 2016, the podcast network has interviewed over 600 Canadian entrepreneurs from coast-to-coast.
With hosts in each province, entrepreneurs have a local and national format to tell their stories, talk about their journey and provide inspiration for anyone starting their entrepreneurial journey and well- established founders.
The commitment to a grass roots approach has built a loyal audience with over 120,000 downloads and thousands of subscribers on all our social channels and YouTube. Canada's Podcast is proud to provide a local, national and international presence for Canadian entrepreneurs to build their brand and tell their story.