For immigrants, a Canadian education significantly reduces skills underutilization, or the mismatch between their education levels and their jobs, says a report released Thursday by RBC Economics.
Immigrants who study in Canada do far better in the workforce than those who don't—and almost as well as their non-immigrant peers, it said, adding that a Canadian education promotes stronger language proficiency, faster integration into the labour market and quicker acquisition of work experience.
RBC said this allows newcomers to overcome barriers like inadequate recognition of foreign credentials and biases in the hiring process.
"For newcomers, a Canadian education is a key stepping stone to labour market success. For Canada, the international student stream is a more efficient source of immigration—and a key to unlocking labour productivity," said the report.
Here is the full report:
Immigrant skills are not being fully tapped
In previous work, we identified a significant mismatch between immigrants' education levels and the jobs they hold. This underutilization of skills is especially pronounced among those trained for industries currently plagued by labour shortages, like healthcare. According to data from the 2021 census, 30% of immigrants to Canada with a degree in medicine, dentistry, veterinary medicine, or optometry worked in unrelated fields, compared to just 4.5% of non-immigrants also educated for these fields.
The same gap exists in other sectors and tends to grow wider as the level of education attainment rises. In other words, the more academically accomplished immigrants are, the less likely they are to find jobs that match their education. This could stem from a variety of factors, including higher barriers for entry associated with higher-skilled jobs, greater lack of recognition of foreign degrees than foreign certificates or diplomas, and greater reliance on language skills (on average) in jobs that typically require a university degree.
Interestingly, when immigrants receive their educations in Canada, the gap associated with labour market underutilization all but disappears.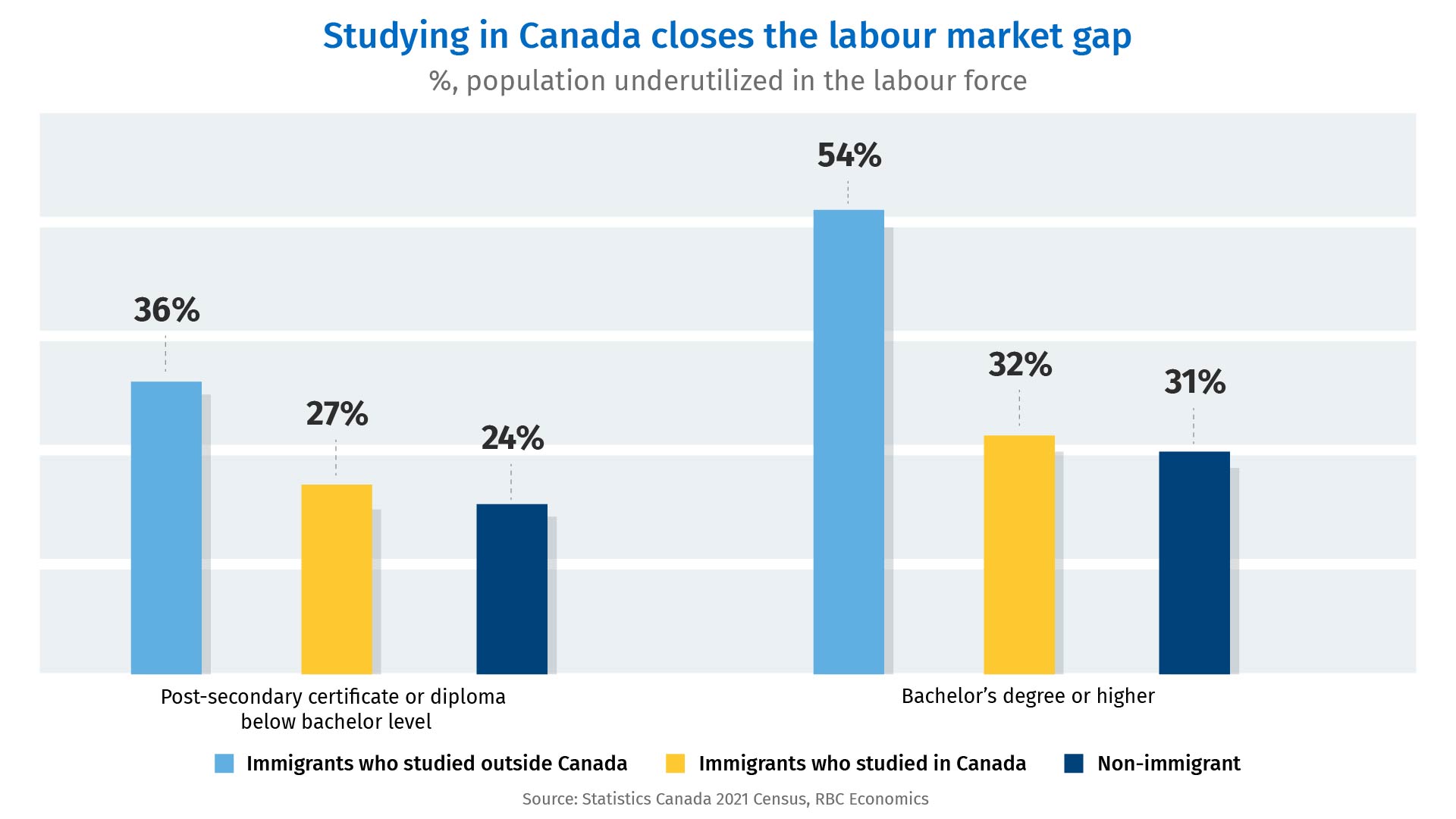 Canadian-trained immigrants more likely to outperform in labour market
With a Canadian education, immigrants are much more likely to find jobs that match their education. Newcomers with a Canadian bachelor's degree or higher have a 32% likelihood of being underemployed or working in occupations that require less education than their actual attainment. This compares to a 54% likelihood of underemployment for immigrants educated elsewhere and is virtually identical to the 31% underutilization rate among non-immigrant workers.
The trend extends to earnings. In 2022, Statistics Canada found that in the first two years after immigration, applicants with Canadian study experience enjoyed a considerable earnings advantage over those without it. That earnings gap was primarily a result of two things—language proficiency and pre-immigration Canadian work experience.
Indeed, a Canadian education can bridge labour market gaps in more ways than one. It offers newcomers invaluable opportunities to learn the official languages (if they do not already speak them) and enables them to begin working at a much younger age. These advantages prove incredibly valuable in helping immigrants to overcome structural biases in the labour force and to find more suitable jobs with higher incomes.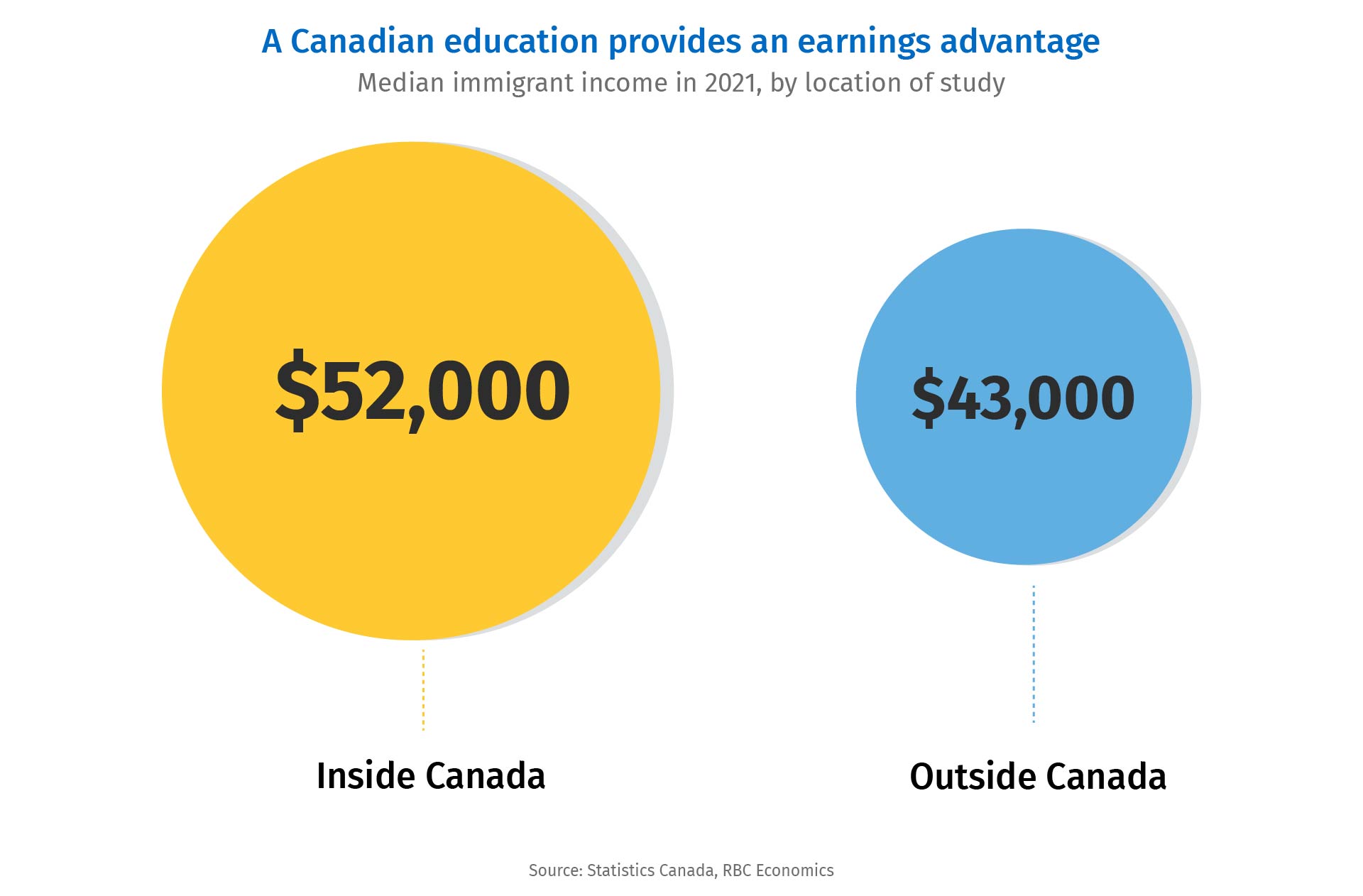 A Canadian education offers newcomers a chance to break barriers
The link between domestic education and more optimal labour market outcomes is not unique to Canada. According to the OECD, long-term employment rates among international students that remain in their host countries after graduation are at least on par with those of labour migrants or other migrant groups. And their chances of working in jobs for which they are overqualified is half that of all other groups.
The same study found that Canada ranks especially high when it comes to incentivizing international students to remain in the country after graduation. Not all of these students will become permanent residents (PRs). Only three in ten first-time study permit holders will transition to PRs within 10 years after they've obtained their study permit. That rate doubles when limited to first-time study permit holders that accumulated work experience during their study.
But a Canadian education helps newcomers acquire some of the must-haves for labour market integration. And for Canada, it is a particularly efficient route for immigration. The outcome—much better utilization of immigrant skills—leads not only to better earnings potential for newcomers, but also to a better outlook for overall labour force productivity. Amid declining natural population growth, this is critical to addressing structural labour issues—which we expect to outlive a recession.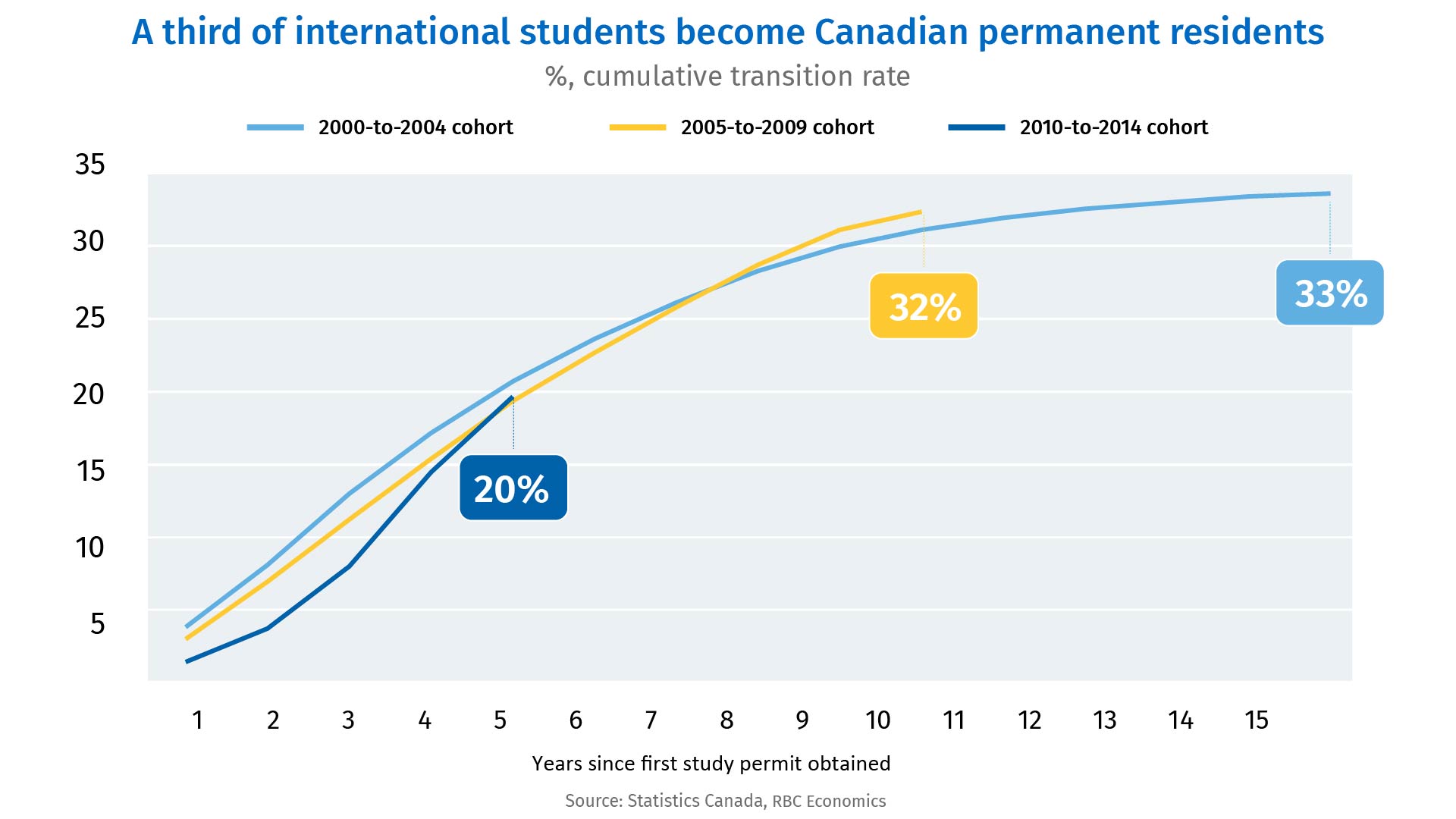 ---
Claire Fan is an economist at RBC. She focuses on macroeconomic analysis and is responsible for projecting key indicators including GDP, employment and inflation for Canada and the US.
Proof Point is edited by Naomi Powell, Managing Editor of RBC Economics & Thought Leadership.
Mario Toneguzzi is Managing Editor of Canada's Podcast. He has more than 40 years of experience as a daily newspaper writer, columnist, and editor. He was named in 2021 as one of the Top 10 Business Journalists in the World by PR News – the only Canadian to make the list)
About Us
Canada's Podcast is the number one podcast in Canada for entrepreneurs and business owners. Established in 2016, the podcast network has interviewed over 600 Canadian entrepreneurs from coast-to-coast.
With hosts in each province, entrepreneurs have a local and national format to tell their stories, talk about their journey and provide inspiration for anyone starting their entrepreneurial journey and well- established founders.
The commitment to a grass roots approach has built a loyal audience on all our social channels and YouTube – 500,000+ lifetime YouTube views, 200,000 + audio downloads, 35,000 + average monthly social impressions, 10,000 + engaged social followers and 35,000 newsletter subscribers. Canada's Podcast is proud to provide a local, national and international presence for Canadian entrepreneurs to build their brand and tell their story.