A new report released Tuesday by RBC Economics says the shakeup in Canada's post-pandemic labour market saw nearly 200,000 women stream into jobs involving less in-person contact—and often significantly higher wages.
"This is far more than we would expect based on women's pre-pandemic share of employment in these jobs," said the report. "These shifts added $9 billion in additional household wage income for women and accounted for 15 per cent of the total boost to their earnings during the pandemic recovery.
"Yet women still reaped smaller wage gains than men who made similar moves. This is likely a result of more men moving into senior management roles.
"Canadian women disproportionately powered the workforce shift into low-contact, higher-paying and higher-skilled jobs. Though this has improved their earnings, a wage gap will remain until equal representation in senior management is acheived."
Women didn't just flood back into the workforce following pandemic lockdowns. Many of them changed the nature of the work they do—moving into higher-paid and more productive roles, said RBC.
"Labour force participation among working women hit a record high of 85.6 per cent in January. That's a dramatic u-turn from the onset of the crisis, when participation plummeted to its lowest level in over 30 years. Aided by more flexible work arrangements and affordable childcare, this rebound also saw a wave of women take steps to advance or reshape their careers. This is particularly true for those working in high-contact sectors, like hospitality services, that were heavily affected by the crisis. These businesses—many of which were forced to temporarily close due to public health measures—experienced an exodus of roughly 178,000 employees," said the report.
"Most of them were women. Despite filling ~55 per cent of jobs in these sectors before the pandemic, women have made up 80 per cent of the labour force movement away from them. In all, nearly 140,000 women have now streamed out of these jobs."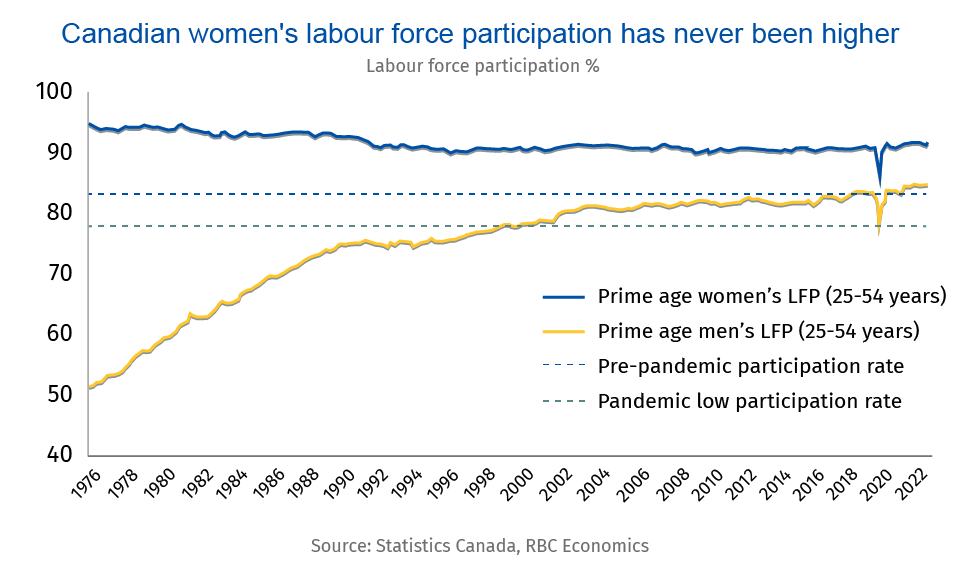 The report said women accounted for more than half of the workers who started jobs in low-contact industries (including professional, scientific, technical services and finance, insurance, and real estate). More than three quarters of the women who shifted into these sectors had at least one post-secondary degree.
"Women who made this change have been rewarded with higher earnings. Of the $21 billion in added income created by the labour force shift to higher paid sectors over the pandemic, $9 billion (or 43 per cent) went to women. This accounted for 15 per cent of the total boost to women's earnings during the pandemic recovery," said RBC.
"Yet men reaped much higher wage gains. For instance, though women accounted for 60 per cent of jobs created in finance, insurance, and real estate alone over the course of the pandemic, they realized less than half (46 per cent) of the wage increases attributed to movement into this sector. In fact, women (with degrees) in finance, insurance, real estate and rental leasing earn roughly 85 cents for every dollar earned by men. And the wage gap in this industry is most pronounced among the employees with the highest education levels."
(Mario Toneguzzi is Managing Editor of Canada's Podcast. He has more than 40 years of experience as a daily newspaper writer, columnist, and editor. He worked for 35 years at the Calgary Herald, covering sports, crime, politics, health, faith, city and breaking news, and business. He works as well as a freelance writer for several national publications and as a consultant in communications and media relations/training. Mario was named in 2021 as one of the Top 10 Business Journalists in the World by PR News – the only Canadian to make the list)
About Us
Canada's Podcast is the number one podcast in Canada for entrepreneurs and business owners. Established in 2016, the podcast network has interviewed over 600 Canadian entrepreneurs from coast-to-coast.
With hosts in each province, entrepreneurs have a local and national format to tell their stories, talk about their journey and provide inspiration for anyone starting their entrepreneurial journey and well- established founders.
The commitment to a grass roots approach has built a loyal audience with over 120,000 downloads and thousands of subscribers on all our social channels and YouTube. Canada's Podcast is proud to provide a local, national and international presence for Canadian entrepreneurs to build their brand and tell their story.